Week of July 24, 2020
How do we solve this problem?
A photo essay in this week's commentary. Why? I've had too many customers tell me I've wasted their time showing them buildings, only to find camper vehicles and trash piles outside the buildings. From now on, the first thing I say is the L.A. Strip has a homeless problem and to be aware.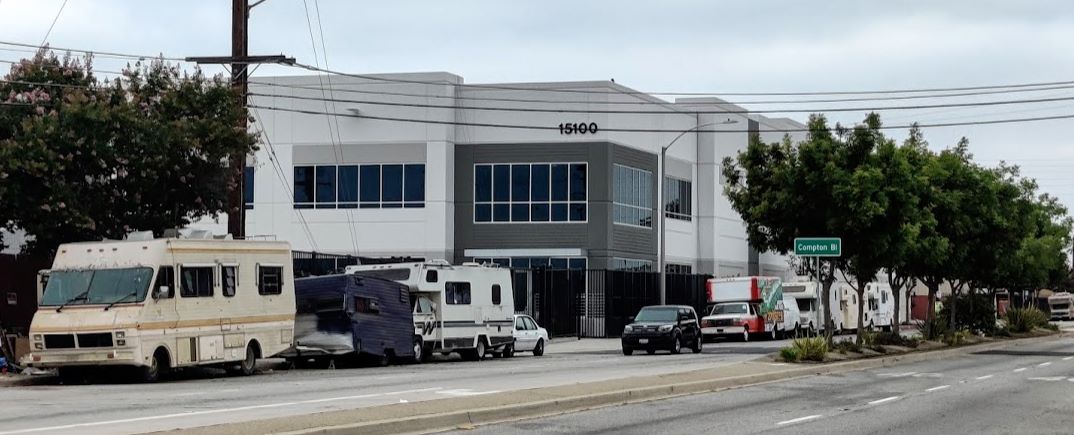 Business owners are right.
"How do you expect me to hire new employees, is it safe?"
"How can I invite customers to see the plant when the first thing they see is garbage piled on the street?"
"There's no parking in front of the building. All the spaces are taken up by broken down RVs"
"Will values go down because it looks so bad?"
The visuals are distressing and living conditions, poor. Even though the L.A Strip is an excellent industrial location, vacancies are low, and the financial returns are generous, there is considerable hesitation to move to the area. Luckily, it is not every street and if tenants complain enough, the County sometimes will act to clear the streets. Extreme poverty, homelessness, and governmental acquiescence makes it a difficult problem to solve.

Many businesses close off the outside problems to their individual property if designed properly. Companies who depend on strategic location to ship goods will ignore the condition because the economics are favorable. Tenants harmed the most are the ones who want to attract an inspired and creative workforce. No one has given up on finding a solution, but it's not coming from County Board of Supervisors or the Los Angeles City Council. More than anything, it's a depressing sign of the times and who wants to be reminded of misery every time they go to work.