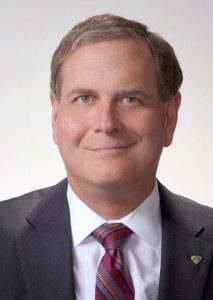 James E. Klein, SIOR
Jim was born and raised in New York City where he retains strong family roots and long term friendships. He was graduated from Kenyon College in 1981 with a B.A. in History and began his professional career in Los Angeles working for a succession of large and small industrial real estate brokerages.
After 15 years practicing real estate, Jim opened Klein Commercial Real Estate in 1997.  KCRE maintains an office in downtown Gardena and has specialized in industrial property throughout the Greater Los Angeles region, specifically the South Bay. More recently, Jim has focused on Big Industrial deals nationwide and land in the Inland Empire.  Clients include major developers, international corporations, and private investors, in both sale and lease transactions.
Jim also holds a New York State broker's license enabling him to serve East Coast clients and is frequently involved in out-of-state transactions through his professional network of highly qualified SIOR brokers.
Jim has held leadership roles in both civic and business organizations including BRICA (Broadway/Rosecrans Industrial Commercial Association), LASVP (Los Angeles Social Venture Partners) and SIOR (Society of Industrial and Office Realtors), for which he was recently elected to the Board of Directors as Education Council Director. His hobbies include tennis and running, literature, travel, and tech. Jim occasionally writes about the industry. He lives in Santa Monica with his family.
Major Transactions
325,000 sf Lease to Logistics Tenant, Ontario, CA
175,000 sf Lease to CoastCast, Rancho Dominguez CA
176,000 sf Sale for Burgmaster, Los Angeles, CA
141,000 SF Manufacturing Pland on 10 Acres for Johnson Controls, Compton, CA
18 Acre Land Sale for National Steel, Los Angeles, CA
7.5 Acre Land Sale for Borden Chemical, Carson, CA.
77,000 sf R&D Facility for Diebold, Inc., Cypress and Rancho Dominguez, CA
165,000 sf Lease to Jonathan Louis International, Gardena, CA
45,000 sf Office Building Sale in San Diego, CA
120,000 sf on 10 Acres Sale for CoastCast Corporation , Gardena, CA
125,000 sf Sale of Manufacturing Buildings in South Gate, CA
85,000 sf of Manufacturing Buildings for Custom Leather Craft in Los Angeles, CA
100,000 sf lease for Mr. Gasket, Compton, CA
6 Acre Land Sale for Alcoa, Los Angeles, CA
9.5 Acre Land Sale to Trammell Crow, Gardena, CA
8 Buildings Exceeding 240,000 SF For IPS Corporation, Carson, CA
15 Acres in Multiple Sites to Extra Space Storage, Greater Los Angeles Area
120,000 SF Building Sale on 8 Acres, Savannah, GA.
4 Acre Land Sale to Aspire Public School, Huntington Park, CA
50 Apartments on 2.4 Acres Development Land, Downtown Los Angeles (Washington and Vermont)
9 Acre Land Sale for the 4th time, Compton, CA
60,000 Square Foot Building, Paramount, CA – Leased twice.
5 Acre Land Lease – Gardena, CA – Leased Three Times – always credit tenant