Business conditions are bad but 2012 is shaping up to be good for me. It could be best year since 2007. But not just in my core business. I sold land in New York and North Carolina; A $3MM warehouse sale in Savannah, Georgia and a $9MM apartment community in Central Los Angeles. My Gardena/South Bay Industrial core is also solid with 85,000 SF of building sales and 7 acres of land.
Several things are coming together at the same time. My 30-year presence in Industrial Los Angeles has given me trusting relationships and extensive market knowledge. The investment in a sophisticated GIS database (MAPP) helps to locate property with exacting criteria. The New York State Real Estate License gives me another large market to find infill land. Strong national and international ties through SIOR substantially widen my geographical scope. Although I go to work in Gardena every day, I'm looking everywhere for opportunity.
Older Industrial
Bad news has a way of bringing out the dealmakers, many who are collecting multiple sites. While their goals differ, the property types are similar. Older industrial that can be purchased for land value is still my favorite. A few Buyers want to demolish and rebuild to higher value property types. Another popular strategy is to take the rental income while waiting for a capital gain down the road. I've invested a lot of time and resources in older industrial and it's paying off.
Why old industrial? There's no competition from the institutions pushing down yields because it's too hard to build up the required mass. Imaginative repositioning is generally beyond the abilities of Users so there's no fear of competition from plentiful SBA financing. Plus, there's a macro story benefiting from extensive infrastructure improvements like light rail and port expenditures to support long term demographic growth in Southern California. Finally, these buyers have a realistic plan. Pay $30 per foot for land, rent at $2.40 per, and wait for other parcels to develop nearby. Or take advantage of low construction costs and build.
Poor Fundamentals and High Sale Prices
Investment is occurring in a weak Southern California. The region has poor economic performance, high joblessness, municipal bankruptcies, rampant corruption, and poor leadership. State and local programs are being cut on a weekly basis. The Great Recession has finally ended the American Dream of good jobs and generous entitlements. And it's no more disheartening than in Los Angeles. As the economy worsens, the deals look even better.
Another peculiar contrast is as rents get lower, sale prices climb higher. There has been no rent growth in 20 years which is a clear sign of business stagnation. Nominal rents are the same as they were in the 1990's and substantially lower after adjusting for inflation. In contrast, except for a momentary dip in 2008-2009, sale prices have remained steady. After a four year recession, sale prices should be at rock bottom. But low interest rates are distorting the normal relationship by keeping payments low and prices high. Stocks, bonds and savings accounts are yielding less, so real estate looks more attractive. Finally, foreign and domestic investors still consider Industrial LA, a safe place to invest money and a welcome home for flight capital. Finally, one quirk is many industrial locations house a vast underground economy selling cheap imports for cash to a largely immigrant population without paying taxes. If you can find the right pocket, these bazaars have very high paying tenants.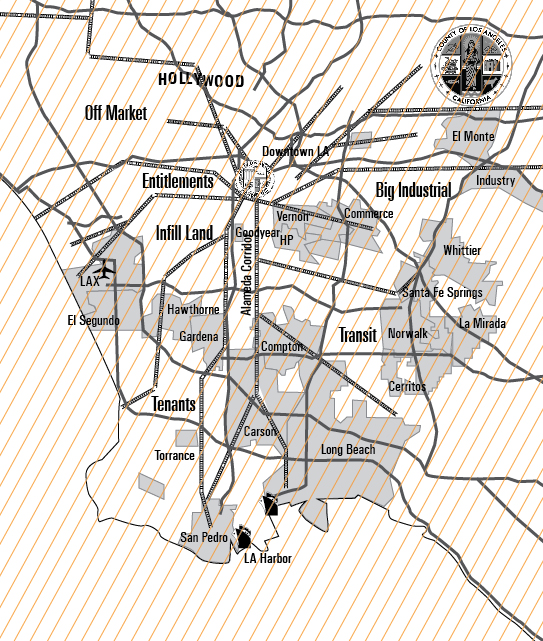 Distribution Centers and the Old Industrial Core
Another paradox is the geographical disruption that is being caused by big distribution centers. Large DC's are the predominant focus of most large corporations, big developers and institutional investors. As goods move throughout the global supply chain, residing for a short time in the exurban warehouses, it leaves the old, central manufacturing districts (CMD's) underutilized. These CMD's are at the center of population densities and because of their locations they are ideal to serve the needs of City residents. But because the marginal value of many of these older buildings is just enough to preserve low end manufacturing and municipalities are loath to upgrade the zoning for fear of losing valuable industrial zoning, the industrial core goes to rot. Take a look at Goodyear Tract, East LA, Alameda, and many of the "Gateway" Cities. While the majority of industrial investment occurs away from population density, the best located industrial in the CMD's faces both obsolescence and government restrictions to higher uses.
One solution to creating a limited industrial resurgence in central cities is to capture more high value manufacturing. It's doubtful that mass production will return to a high wage, heavily unionized Los Angeles. The large manufacturing enterprises prefer Right-To-Work states in parts of the Midwest and South. However, specialized, skilled production does have a role to play. Aircraft and precision machining are examples. Creative design and finishing are also L.A. stalwarts. Unfortunately, more needs to be done on an institutional level as far as training and creating an identity. Los Angeles has both the industrial infrastructure and the workers to create better industrial jobs. However, if left to companies themselves, they will parse global production centers, load up containers and move their various parts of production to the cheapest destinations.
Conclusion
The Great Recession has brought us the Great Transition. Real estate simply mirrors the global, technological, and bottom line initiatives. Long term trends occur at Internet speed. Capital wants immediate returns and not long term goals. Management is often quickly replaced. Production plants move on pennies per item. Everything is calculated to stay ahead of a recession that is still taking victims. The policy maker's dilemma is what works for the individual is not often beneficial for the greater good.
As for my business strategy, I'm focused on infill industrial, land, good clients, and long-term relationships. A poor economic climate is a fertile time to buy. There are many tenants who want low rents in central locations. Many major cities continue to be vibrant destinations and Los Angeles will remain one of the best. Meanwhile, I'm keeping one foot squarely placed in the old farm area, while looking to improve my capabilities and contacts across the globe. My strengths with infill development, tenacious representation and the knowledge I derive from the MAPP Program can be replicated anywhere. The goal is to find meaning and value behind the contradiction.
(August, 2012)